Kew Gardens, London
That summer had been drearier than most, so I suggested a trip to London to disrupt the monotony. Mike said 'sure', although he hadn't anticipated that I'd drag him nearly to Brentford, as far west as the overground would go. There's an early seventeenth century play by Dekker and Webster called 'Westward Ho!' in which a few bored London wives go gallivanting off to Brentford with a couple of libidinous gallants (Brentford at the time being a hotbed for dodgy assignations). It's not the playwrights' best work by far--improbably chaste, fully of soggy humor, with most of the drama orchestrated by a man posing as a math tutor named 'Parenthesis', but I like thinking about what places were like in the past, and London with its long history is a great springboard for these imaginings. We wandered around Kew taking absurd pictures, and then slowly made our way back to our Ph.D. theses. London, England
Soldier eggs
'There's something sordid about eggs.' - Livia Paris, France
Cycad
The world's oldest potted plant. London, England
Down to the River
Louise and I walked along the river to Grantchester on the first warm day of spring. She took the picture of me that graces the cover of this site, and I took this one of her as the sun went down, just before we retreated to the Green Man for ale. Cambridge, England
Fernandez
I spent a summer buried in the London Metropolitan Archives, squinting over microfilms of seventeenth century consistory court records. 'Tho[mas] Braddocke: I would thowe didst but see howe like an ould jade thowe doest looke like ever since thowe tookest or didest take Mris Browne into thie howse' ... and all that. Whenever my brain and eyes could handle no more, I would retreat to Fernandez & Wells in Beak Street for this coffee and a jamon iberico sandwich--all would be right with the world again. London, England
Endless
Overgound. London, England
Ladybird
Whenever I think of Lady Bird Johnson (more often than you'd expect), I always wonder if she took umbrage at being identified with an insect. This one landed on Haley during a lazy summer afternoon at Canada Water--which also has an unfortunate name. London, England
Burning Bush
Azaleas, I believe. London, England
Yusuf
When I met Yusuf in Koidu, he had recently broken a leg. Koidu has very few cars but a lot of motorbikes, and one of them had hit Yusuf as he was playing soccer with his friends in the street. His family had taken him to a witch doctor, and the man set about breaking and binding a chicken's leg alongside the boy. The theory was that if the chicken's leg healed straight, the boy's leg would heal straight. If not, the witch doctor would break both the boy's and the chicken's leg again, and again, as many times as it took to get it right. Yusuf sat quietly on the floor, his bloody bandage picking up dirt as he scooted around trying to keep up with his younger brother. I have yet to meet another child who bears such an injury with such grace. Koidu, Sierra Leone
Banana Islands
You know what we didn't find on the Banana Islands? Bananas. We did find a sleepy fishing village and some cannons left by the Portuguese during the slave trade. This boy and his father took us to the island in their fishing boat for a few thousand leones, and on the way we stopped at another boat and bought an enormous barracuda from some drunken fishermen. They graciously cooked the fish for us on the beach while we explored, but the meal lasted too long and were caught mid-sea after the sunset. With no electricity on the mainland there was no light pollution to guide us, and the father was visibly distraught as he attempted to steer the boat toward the narrow beach in pitch dark night. Banana Islands, Sierra Leone
Barracuda
This, roasted and served with fen fen (broken Jasmine rice, not the diet pill) and braised onions was one of the best meals of my life. Banana Islands, Sierra Leone
Cheese
Aminata, the youngest student in my class of orphans, would make this utterly joyous, open-mouthed expression every time she was asked to smile. Freetown, Sierra Leone
Mother
She lived next door to the EducAid School on Sergeant Road and greeted me everyday as I walked to work. There was something gentle about her that reminded me of my own grandmother. Freetown, Sierra Leone
Dance
Classes had ended and there was music on the radio. The boys were downstairs playing draughts so the girls moved the desks out of the way and danced. Freetown, Sierra Leone
The Miner
Women aren't allowed in diamond mines. They are considered bad luck, and their presence means nothing good will be found that day. Sierra Leonean diamonds are alluvial, which means they are panned in water, not dug out of deep caves. This poses a problem for security since the entire region of Kono is rich in diamonds. Dabo told us about an old woman who found a rock in her garden the size of a groundnut. I tried to lay low but it's tough to blend in when you're an asian girl in a Sierra Leonean diamond mine. When the miners caught sight of me, there was much yelling in Mende and it was probably the most nervous I felt during my whole time in the country; if my visit meant the day was lost, I can hardly blame them. Kono, Sierra Leone
Sia Mary Musa
Mrs. Sia Mary Musa, the mayoress of Koidu, had been presented with the order of Rokel by President Kabbah for her exceptional service to the country. She told us she doesn't do paperwork in the office, but instead spends the daytime seeing the farmers and fishermen of her district. She takes any papers home with her and often works on them until 2 or 3 a.m. by lamplight. Koidu, Sierra Leone
Trees and walls
Textures repeated themselves in Tiberius's Villa. Capri, Italy
Stairs
Roman ruins. Capri, Italy
Dad and Jen
Although we were fortunate to travel a lot when I was young, this seemed to be the first family trip we had taken together as adults. Miraculously, old tensions dissipated as we explored the streets of Amalfi, the stairs of Positano, and the rocky hills of Capri, sharing the lovely moment as peers. My dad says it was the best trip we have ever taken, and I'm not sure whether it was Italy or the fact that he never once had to wake up in the middle of the night to drag me back from some unsavory nightclub venture. It was a relief for all of us. Amalfi, Italy
Convento
This was likely the loveliest place I have ever been on earth. A convent perched amidst lemon groves, high above the town of Amalfi. This view was serenity itself. Amalfi, Italy
Fence
Signs in Macau are in Portuguese and Cantonese but rarely English. Lord knows I can't read a hint of Cantonese so I was grateful to my freshman year Portuguese professor. Obrigada, Sra. Duarte. Macau, China
Old and New
ICC building in Hong Kong harbour. Hong Kong
Dad in the morning
I caught this quiet moment on our first morning at West Lake. West Lake, China
Commute
There are a dozen ways to get around Hong Kong with the swipe of an Octopus card (side note: why are so many city transport cards named after seafood? cf. London's Oyster card), perhaps the cheapest but least expedient way is via the aging Star Ferry. My mom has fond memories of ferry from her childhood in Hong Kong. I rode it across the harbour one evening, as the sun sank low on the horizon, and commuters made their way home from a long day's work. Hong Kong
Rowing
I don't recall the name of this town but apparently one of the Mission Impossibles was filmed here. The locals still talked about meeting Tom Cruise, many years after the fact. China
Remember, remember
Bonfire Night was always one of my favorite evenings. A giant bonfire would be lit in Midsummer Common to roast an effigy of Guy Fawkes. Although there was something faintly pagan about the whole ritual, it brought the entire town out into the night. The blaze would warm our faces even from afar, warding off the early November chill. Cambridge, England
Fireworks
Guy Fawkes Night. Cambridge, England
Dream
I walk past the Dream Hotel in New York everyday on my way to work. In the winter, great sheets of ice bloom on the slanted north wall and occasionally they accumulate enough weight to come crashing onto the sidewalk below. New York being as litigious as it is, the hotel puts out caution tape and salts the pavement liberally, probably cursing the architect for getting them into this mess. New York, USA
Fall
'Jump,' she said. Jen and I were on the first trip we have ever taken together without our parents. We had spent the week traveling from Dubrovnik to Korcula to Šipan, and were back in the first city for a night before flying home. The trip was a revelation. You grow up thinking you know everything about your siblings then suddenly, you see each other as adults and it's like making a new friend. As we hung out on the rocks outside the city walls, watching a group of Croatian kids take turns leaping off the outcrop, I was grateful for my sister and everything new I had learned about her. 'You first,' I said. She didn't miss a beat. Dubrovnik, Croatia
Sunset
A last sunset in Dubrovnik. Dubrovnik, Croatia
Matryoshka
Dolls at a market. Budapest, Hungary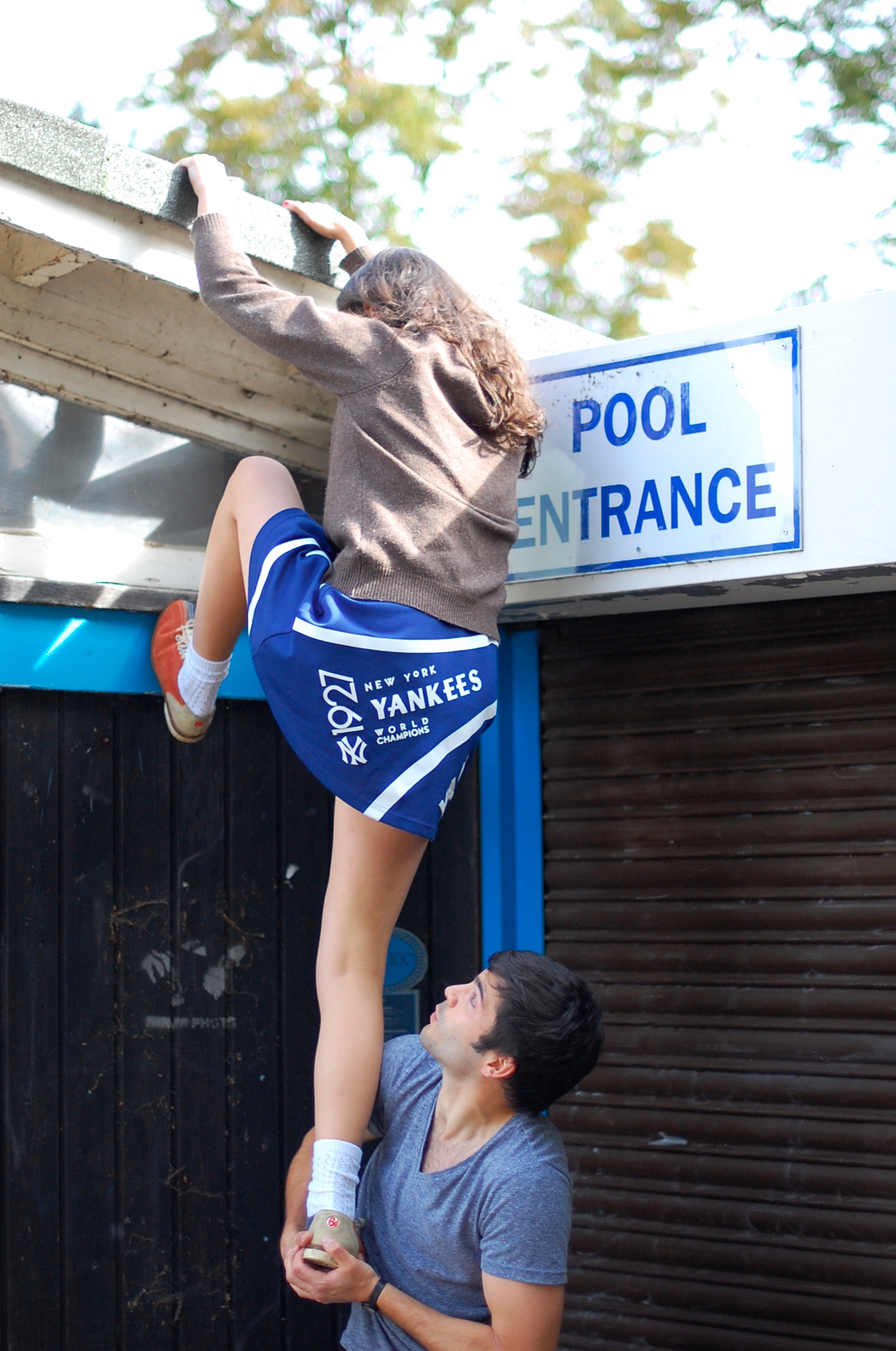 Score!
Louise and I spent a term as Fashion Editors for Varsity. The job entailed coming up with a concept for each shoot, sourcing the clothing, picking the models and sometimes a guest photographer, finding a location, praying the weather would hold, taking the photographs, processing the photographs, arranging the print layout, and posting everything online, then doing it all again the following week. We loved the pace of it, but suffice to say neither of us got a word written for our supervisors all term. For 2nd week, we snuck our team of models into Jesus Green Pool and reveled in its desertion. Pete helped, and tried not to look up anyone's skirt. Cambridge, UK
Fish
Aquarium de Paris. Paris, France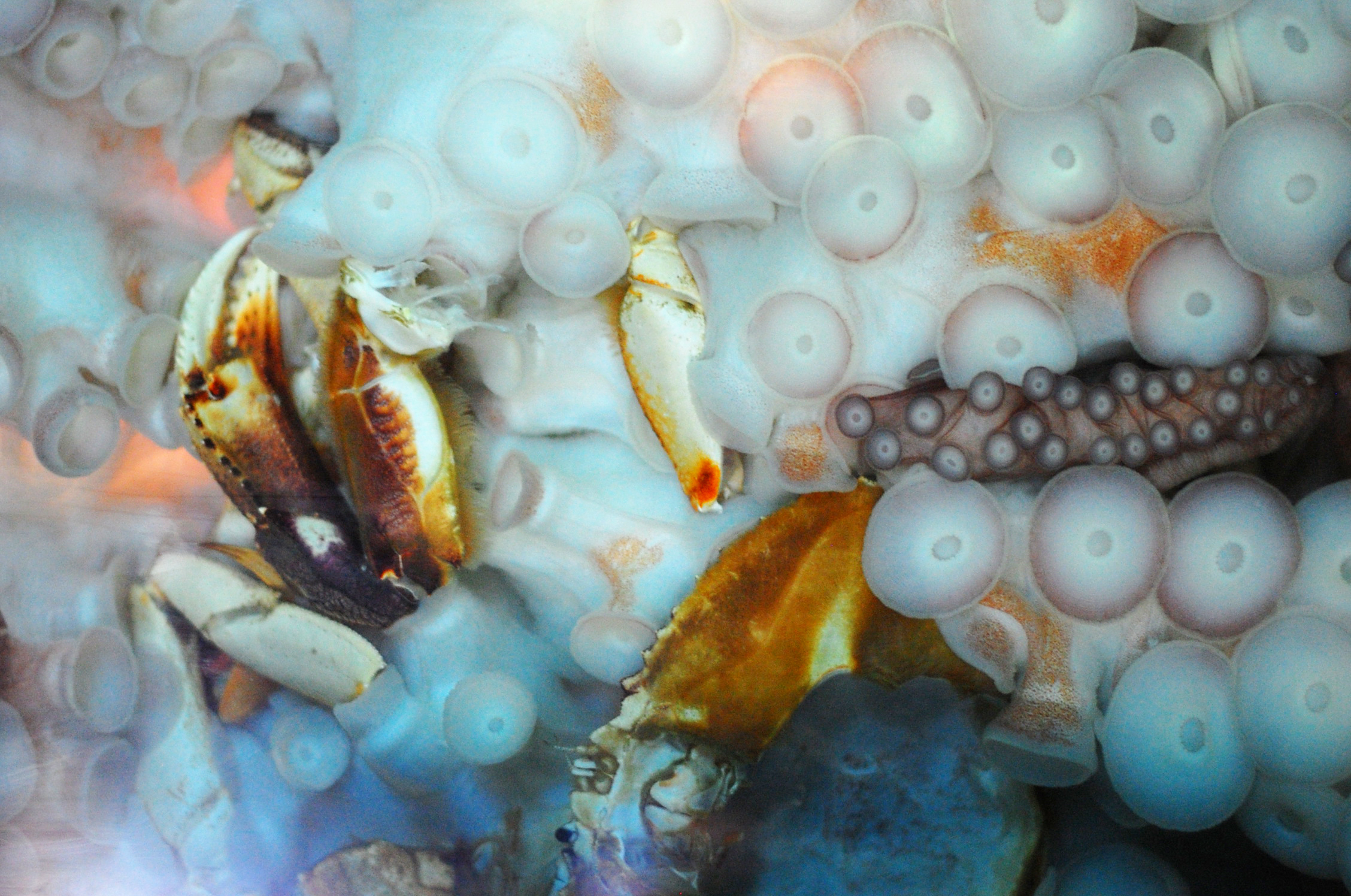 Octopus + Crab
I would never have imagined that something as pliable as an octopus could dismember something as tough as a crab. Vancouver, Canada
House of Terror
House of Terror, commemorating the Nazi and Soviet occupations of Hungary. Budapest, Hungary
Another Home
We hiked to the top of Chinaman's hat and the heavens opened up as we carved our names in the rocks. Oahu, USA
Dreaming in Dutch
My flower arrangement for the Dutch Masters Class, Little Flower School. See blog post. Long Island City, USA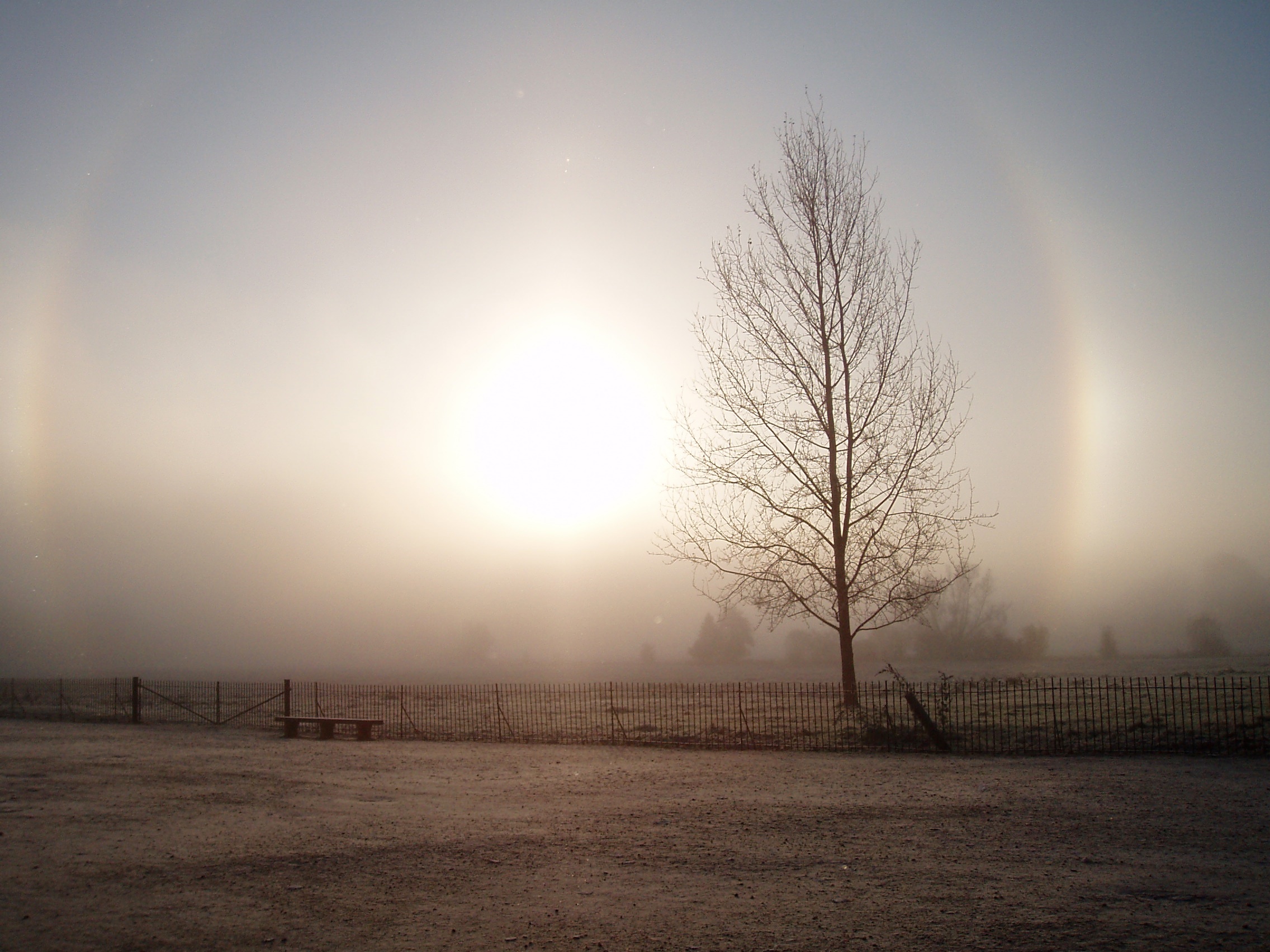 Thyrsus
On a frozen, frosty morning after I'd had my heart broken, this double rainbow appeared over Christ Church meadow. Oxford, England
Waimea
A rainy day in Waimea valley. Oahu, USA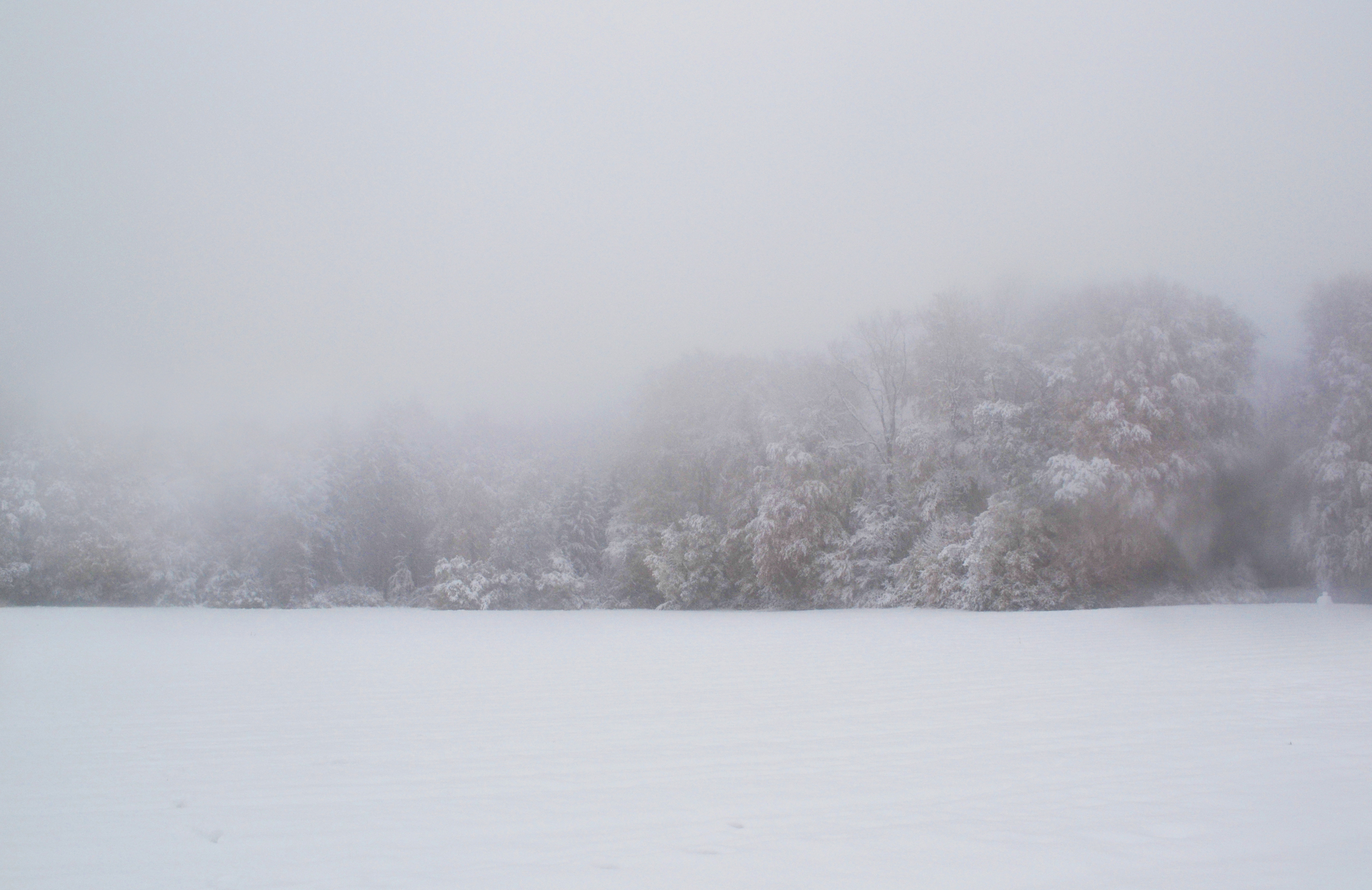 King's
The ceiling of the King's College Chapel. I miss this desperately on Sunday mornings, as I miss the Chaplain's sherry afterwards. Cambridge, England
Letters
Loose letters for a printing press. Cambridge, England
Sunset
Sunset before an evening of fireworks in Vancouver. Vancouver, Canada
Get Free
Coachella in a photo. Indio, USA
Mud
Tramping around with Louise in a muddy field, taking pictures. Cambridge, England
Old Hat
Autumn in Cambridge could be frigid or fair. We got lucky one day and there was a spontaneous barbecue at Whichcote House. Old friends showed up, one of whom had become legendary for wearing his army dress uniform to casual gatherings. Cambridge, England
Through a glass, darkly
Driving past Central Park, looking through the screen at the trees. New York, USA
Autumn in Paris
Chestnut trees along the Seine in September. Paris, France
The Alps
A little while ago, a friend heard that I was having a terrible month and invited me to join him in Chamonix for a weekend to read books, hike, and forget about work for a moment. Although the ticket (even on Easyjet) was a stretch for my student budget, I went, and as I crossed into France from Geneva I think my heart grew three sizes. I grew up surrounded by mountains and they have a restorative, amplifying effect on me (the flat, damp fens of Cambridge do the opposite). The weekend started off pleasantly enough, considering how it would end. He welcomed me to Argentière in the late afternoon, we checked out the village, and had a savoyard meal at a hole-in-the-wall. When we got back to the hostel, there was another young couple there and the four of us got to talking about politics and our work. My clever, charismatic companion seemed utterly at ease commanding the room's attention, which is something I have never been comfortable doing. He had a way of constantly referring back to me that made me swell with importance, like I was the most brilliant, most beautiful person in the world in his eyes (which was bewildering--he was undisputedly one of the best-looking people I knew, and certainly must have been used to the attentions of prettier girls than me.) It was all quite dazzling, like being pulled into the orbit of the sun and being made radiant by proximity. After the other couple had gone to bed, he made it clear that he expected me to sleep with him that weekend. I won't pretend I was completely surprised by his intentions (I suspected, but hoped he wouldn't stoop so low); what did shock me was his insistence that if I wasn't going to sleep with him, I should leave immediately. I had liked this friend. I had thought he was a sensitive soul. I tried to reason with him but apparently cleverness doesn't always translate to decency. He wouldn't allow me to stay there platonically, and I couldn't stomach the idea of sleeping beside a person who would make such callous demands. I slept on the couch and booked an expensive new return flight the next day. When I took this photograph, I was livid, disgusted, and sad to lose one of the few people I felt I could relate to honestly. Looking at it reminds me that I was resolute in a moment when it would have been cheaper and easier not to be--and yet that strength is a bit of a sham. Was I strong or just lucky? Was I manipulated or manipulative? I'm still not sure how to think about the incident. Chamonix, France
Beyond Retro
I was standing under a giant 'NO PHOTOGRAPHY' sign when I took this and only noticed after it was too late. London, England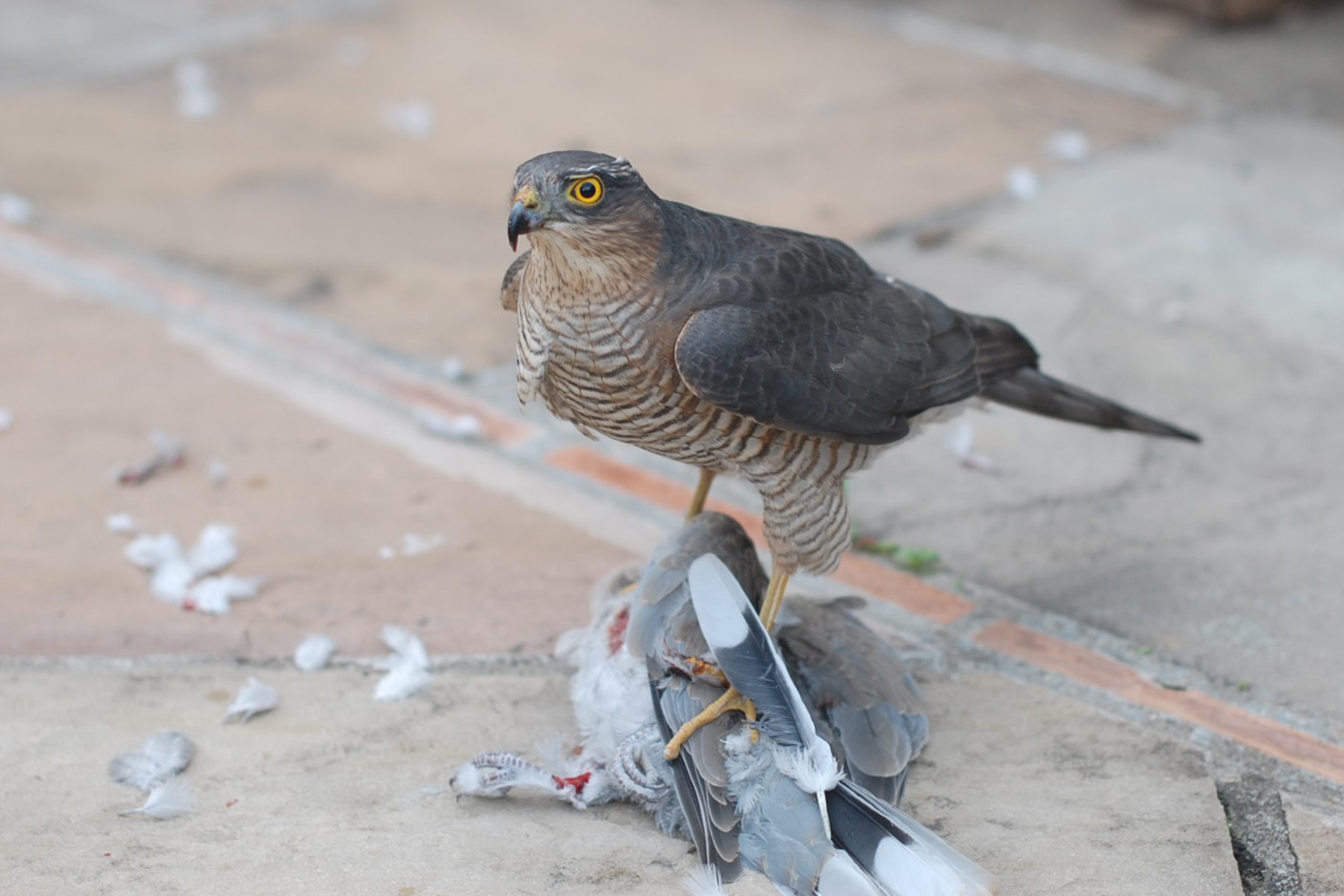 Prey
I have a pretty graphic series of photos that accompany this one in which the falcon makes a bloody mess of that pigeon. When I posted this photo on Facebook, someone commented that she was shocked that I stood by taking photos while one bird plucked and disemboweled another. I wonder about people like that. They strike me as the type who are quick to cry offense but when asked to explain what exactly offends them or what solution they'd propose have nothing better to offer than sputtering indignation. If it betrays some deep moral depravity that I was engrossed by this scene, well, I'm fine with that. Besides, the terrace outside my flat was completely infested with pigeons who shat everywhere, made constant pornographic cooing noises, and strutted around like they owned the place. Personally, I was rooting for the falcon. Cambridge, England
Fruit
Shot for Varsity. Cambridge, England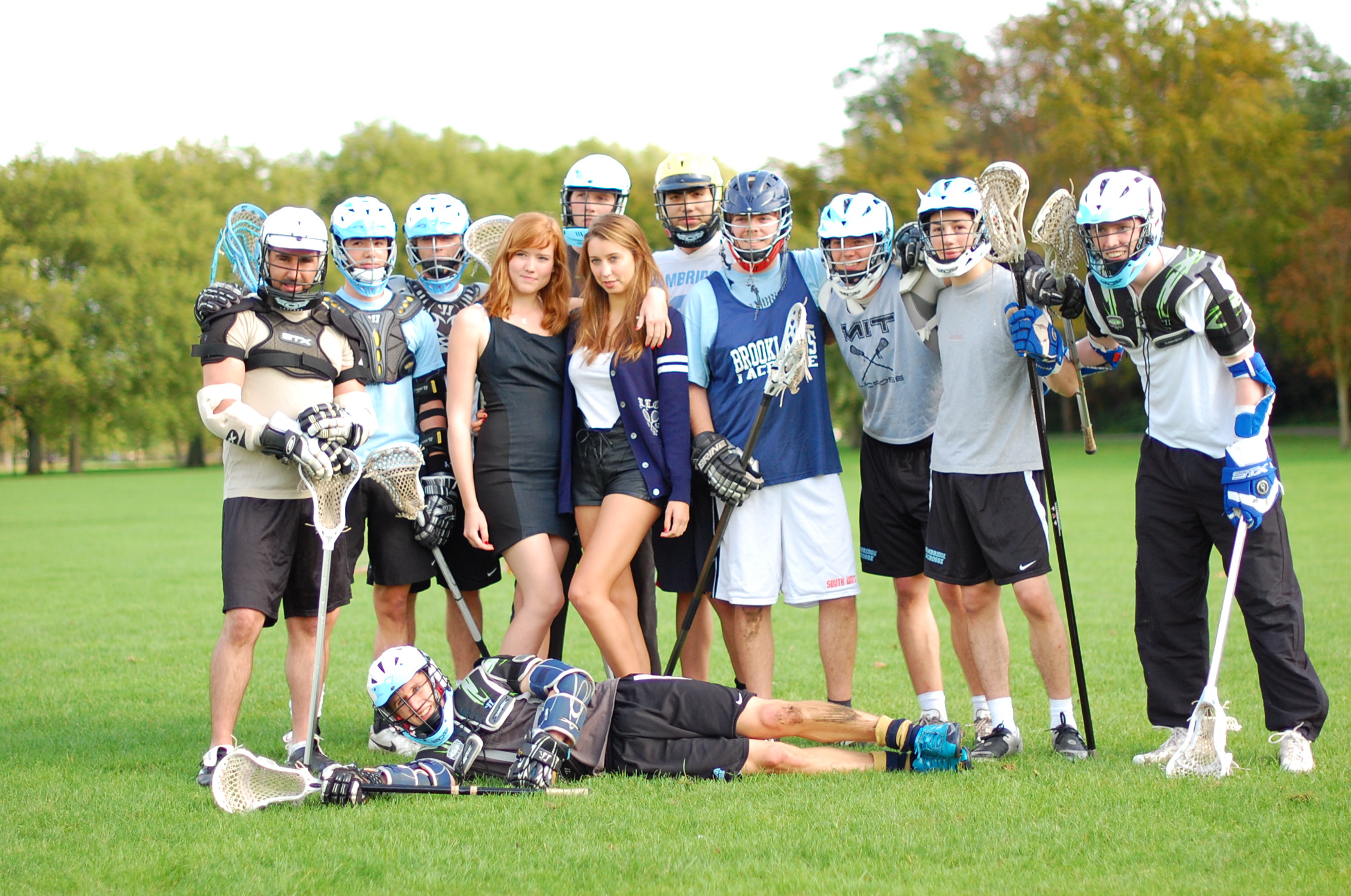 Outtake
While we were shooting these two models in Jesus Green, the Cambridge Mens Blues Lacrosse team happened to be practicing nearby and gamely took a break to indulge us. Cambridge, England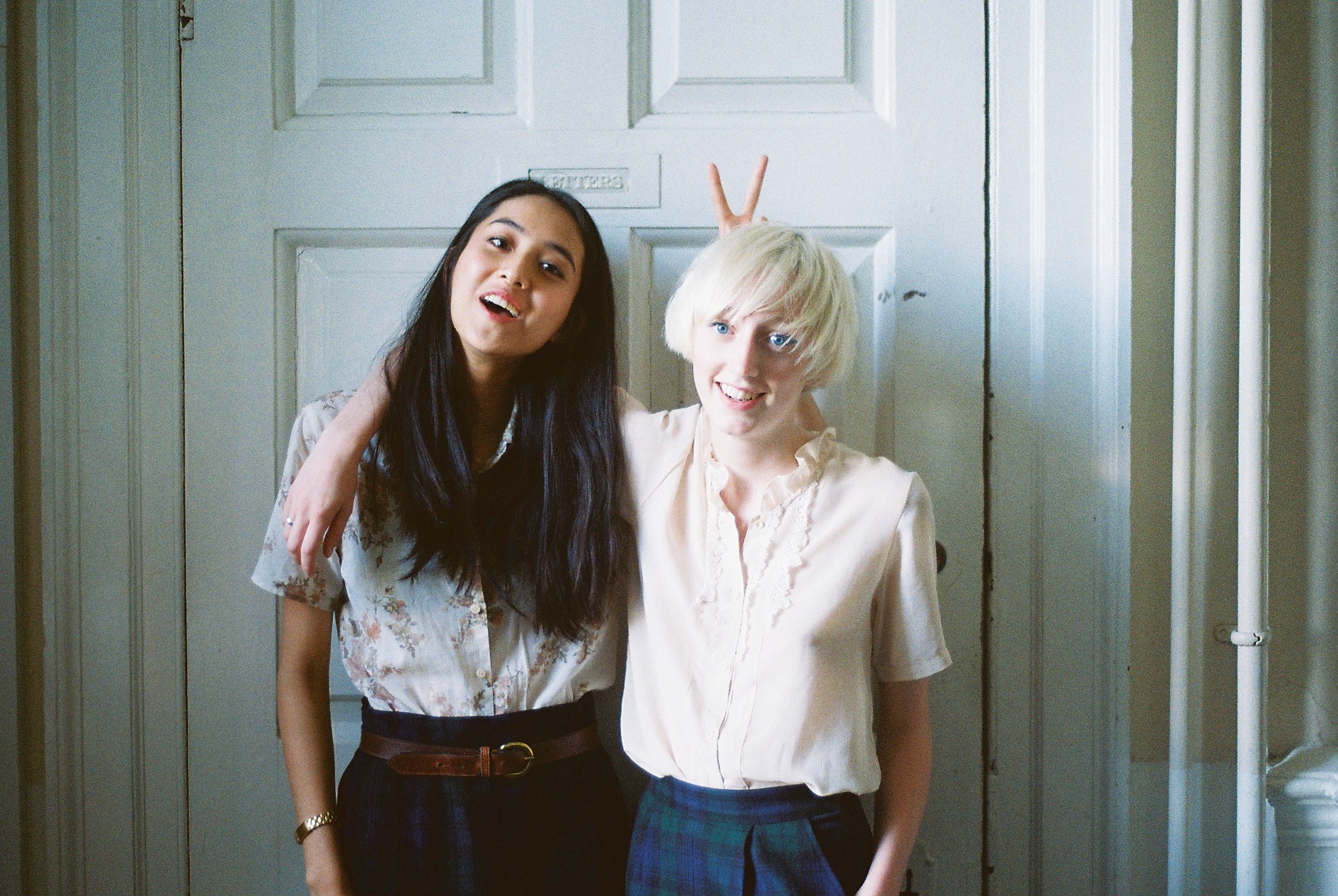 Week Four
Ph. Louise Benson Cambridge, England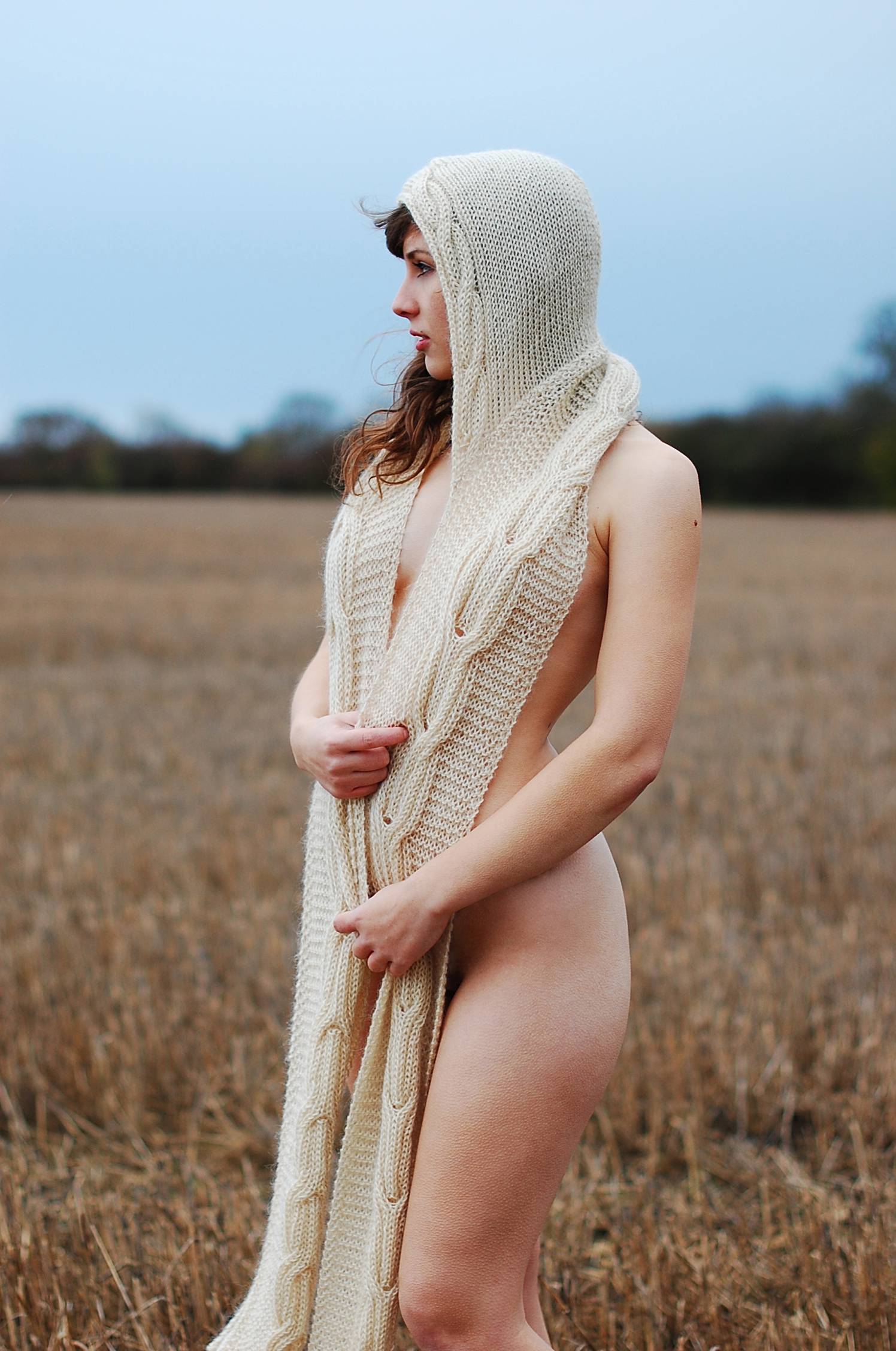 Days of Heaven
I used to joke that the first thing that would come up when you googled me was the Daily Mail headline "Cambridge University student poses for Varsity's first topless fashion shoot" and the second was a video of me reading the Bible in a BBC-televised carol service in the King's College Chapel. I don't think this is quite true anymore, but this is the incriminating photo. Louise and I weren't planning on nudity for our final shoot, but after we'd borrowed a few knit pieces from Lily Cole's The North Circular and trekked out to a freezing field in the middle of nowhere, we realized that none of the things we'd brought to style with seemed to work. These images grew organically out of a difficult situation, and L and I were very grateful to C for being a sport. The morning that these went to print, I got a call at 8am from a Daily Mail reporter asking for all sorts of details about Lily's involvement and C's identity. I then had to have an awkward conversation with Lily, who was a bit pissed that we hadn't told her ahead of time about our plan. I sent her the photos and thankfully she agreed that there was nothing lascivious about them. (Why is female nudity always construed as sexual?) It was a rookie mistake, but truthfully, we were the epitome of naive. Used to being surrounded by our liberal peers, we had genuinely forgotten that some people find nudity shocking. The article uses words like 'raunchy' and tries to claim that we drew inspiration from Juergen Teller's shoot of Lily a few years before. Within a week, that page had shot up Varsity's click count by the tens of thousands. Louise and I got written up in some Italian newspaper in which I'm referred to as 'La Kwong', responsible for 'lo scandalo' at Cambridge. The comment sections got pretty horrendous and even though we hid C's identity, people still somehow found her father's place of work and tried to shame her publicly. Thankfully again, C's family took it in stride. Hand to God, we weren't thinking about Juergen Teller or creating controversy when we took these photos. quite simply, we found ourselves at the edge of the world and, for one reason or another, it seemed like the thing to do.
Band of Outsiders
Isaac, Mark, and Katy run away from home. London, England
Unless otherwise stated, all images on this site are the property of Jess Kwong, kindly ask before using them.